Back Pain when cycling
Do you get back pain when cycling?
For many of us the joy of fresh air and fitness benefits of cycling can be marred by back pain. If you get discomfort or worse during or after cycling but are not affected when doing other activities, there are some well proven actions that you can take to improve things.
The recommendations below have been taken from the 'Cycling and Back Pain Factsheet issued by the organisation www.backcare.org.uk. – please download and read the full information.
Why would cycling be uncomfortable?
Basically when you cycle for more than short journeys, you are putting your body in one basic posture and repeating the pedalling movements thousands of times. We aren't robots, so we have to find a way to deal with repetitive movement comfortably.
Make sure that your bike fits
A bike does not fit just because the saddle is at a certain height! Most bikes have a number of items that can be adjusted or changed to give you the best chance of being comfortable – and if you're comfortable you usually find cycling takes less effort. Whilst there are some basic ways of deciding the saddle height yourself, it makes sense to consult an expert (fitting is part of a professional bike mechanic's qualification, look for the Cytech logo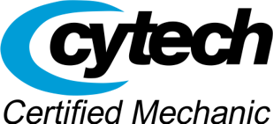 .
Bike fits range from making some basic measurements and adjustments to suit your needs, to sophisticated video recording and measurements of every way that you move. Make a few enquiries and decide for yourself what level of detail you want. But remember, your body moves all the time so a sophisticated-sounding or expensive session may not be as effective as a few short visits and gradual adjustments.
Get the right bike for your needs
I've put this after the bike fitting, but sadly a bike fit may find that you have simply got the wrong size or type of bike to start with. A good bike fitter will realise very early on in the fit if the bike is just wrong for you, and they should stop and discuss what to look for. The moral is to buy a bike you have tried before, or ideally buy from a reputable supplier who takes full measurements and discusses your aspirations before you buy.
Ease those muscles
The leaflet explains how you can prepare and ease your muscles before, during and after cycling. Having got the equipment set up to give you the best compromise between posture and effective riding, you help your muscles tolerate and recover from the repeated activity.
Enjoy the leaflet, and do let me know via my facebook page how you got on.
Safe riding.